In their six-day strike, Los Angeles teachers refined the model of community unionism developed in West Virginia. Along the way, a generation of working-class students has discovered something you can't learn in a classroom.
Long before the Los Angeles Unified School District (LAUSD) capitulated to union demands, it was clear the teachers were winning over Angelenos in the court of popular opinion. The teachers' strike had an 80 percent approval rating in LA county (the largest in the United States). Organized under the banner of United Teachers of Los Angeles (UTLA), approximately thirty-thousand teachers struck in nine-hundred campuses throughout the city. School staff as well as parents and community members joined teachers on the picket lines in numbers that grew every day. This strike was not only enormous; it was also incredibly well organized. In fact, it was UTLA's first strike in thirty years. Nevertheless, daily picket lines at 7 a.m. blocked scabs—both substitute teachers and critical staff hired by the district—from entering the schools. Teachers also engaged in city-wide marches and a picket at the home of LAUSD School Board member, Monica Garcia. An estimated one third of students, about five-hundred thousand, were absent from school each day for the duration of the strike, costing the district $97 million by Thursday. The coordination of these demonstrations despite soaking rain was nothing short of amazing in a city known for shutting down after a few drizzles.
Privatization and Beutner's Board
Across the country, teachers are fighting to preserve public education against an onslaught of privatization. A key target of this strike is the new superintendent of schools, Austin Beutner, a former hedge-fund manager who is leading a campaign to expand charter schools. Beutner ran on a campaign paid for by the California Charter School Association. Unelected but shadowing him on the school board are venture philanthropists like billionaire Eli Broad and Netflix CEO Reed Hastings, whose financial contributions give them incredible steering power. Beutner's election to the pro-charter board was controversial but not surprising, since the swing vote in the election was Ref Rodriguez, who had been forced to resign after convictions on felony charges of corruption and money-laundering. The UTLA strike took place ahead of an upcoming special election to replace Rodriguez's seat on the school board. Teachers hope to fill the seat with an anti-charter voice, but they know the struggle does not stop or start with that election.
"The message in Los Angeles was clear: teachers are fighting for their jobs and their students and, by extension, a better society writ large."
Yvette, a special education assistant I met on a picket, gave voice to the anti-privatization movement growing up around public education. "New Orleans lost all of its public schools after Katrina. Now they're trying to spread this privatization all around the nation." She continued: "These charter schools think that they're doing everyone a favor by providing more options, but the reality is that they amplify discrimination. Test score based acceptance to charter schools weeds out the students they don't want to take. How can you tell a student they're not worthy of education? And all the kids that are being affected are the brown and black kids." For teachers like Yvette, charter school reform is the wrong direction; she envisions a radical transition from a system of standardized testing to one that values students with differential needs and abilities.
In addition to the struggle against charter school reform, UTLA had five demands: 1) a 6.5% pay raise retroactive to July 1, 2016; 2) a cap on class sizes, because California teachers rank 48 out of 50 in the nation with regards to class sizes and LAUSD is among the worst of the worst; 3) discretion to determine when standardized assignments are given; 4) increased per-pupil funding, given that California ranks 43 out of 50 in per-pupil spending despite being the richest state in the country; and 5) additional school staff including nurses, counselors, librarians, and social workers. Prior to the negotiated settlement, the student-to-nurse ratio was 1,224:1 and the student-to-counselor ratio was 945:1.
Riding the Wave
Los Angeles is the latest city to be hit by the wave of national teachers' strikes that began in West Virginia in February last year, which appears already to be spreading to Oakland. Drawing inspiration from UTLA, Oakland teachers in nine different schools organized a wildcat "sick-out," taking person days in protest of school closures and inadequate pay. Coordination between the two cities spontaneously assembled a statewide network of nine-hundred rank and file teachers.
The strike waves' extension into Oakland showed that the Los Angeles teachers have advanced a national effort to reverse a decade of austerity measures and privatization schemes. What's more, these struggles exceed the instrumental workplace demands typical of union struggles to include community matters as well.
From West Virginia to Chicago, strikes of this nature articulate what Massimiliano Tomba calls "insurgent universality." Drawing from Marx and Aime Césaire, Tomba writes about an "alternative vision of universalism, based on solidarity that respects the particulars" over and against a solidarity of "emaciated universalism" that tends to drown out the clamor of voices and demands under a smothering uniformity. For instance, analysts of the teachers' rebellions spreading across the country have noted that since the 2012 Chicago teachers' strike, teachers' unions have highlighted the fight for racial justice as part of a broader working-class push for better schools and better working conditions. In fact, the strike wave has turned on precisely this point: teachers in the public education sector are drawing on labor histories and cultural contexts, sharpening tactical and strategic tools forged in the labor, anti-austerity, anti-racist, and feminist struggles. The message in Los Angeles was clear: teachers are fighting for their jobs and their students and, by extension, a better society writ large.
My conversations with a dozen participants in the course of the strike underscored this point. The rallies, pickets, and home demos were a space of encounter between different sectors of the Angeleno working class. The teachers, students, staff and their families were backed by a distinct LA flavor, and not merely because of the way a caravan of taco trucks and bacon-wrapped hot dog vendors rolled up to feed strikers throughout the week. Or, maybe, precisely because this kind of solidarity between the formal and informal sectors of labor is characteristic of an "LA model" of organizing. UCLA labor sociologists Ruth Milkman, Joshua Bloom, and Victor Narro argue that the labor movement in Los Angeles has been particularly resilient compared to other parts of the country because of a dynamic and mutually beneficial relationship between traditional labor unions, emergent worker centers, and low-wage immigrant organizing in precarious areas of the economy like street vending, car washing, and the garment industry. It's in this context that we should understand the relatively powerful position in which unionized teachers find themselves.
We can see this model on display in UTLA's embrace of a strategy oriented toward increasing their leverage through alliances with community groups. When asked how long he believed the strike would last, UTLA president Alex Caputo-Pearl responded with a simple answer: as long as it takes for a real offer to come to the table, knowing that he had the community support to outlast management. Though many rank and file voices are now suggesting this contract is the bare minimum, the strike was victorious in drawing truly popular support from various sectors of the working class, support which enabled the union to strong-arm their way through negotiations. By walking out of their classes, teachers taught a generation of students a lesson in popular power.
Caring Enough to Strike, Day One
On the first morning of the strike, I met my DSA comrade, Luis, and his friend, Mario, an aspiring high school teacher, in a rainy McDonald's parking lot near Robert F. Kennedy High School. Mario had been picketing since early morning. We were headed from there to another rally downtown. As we got into Mario's car, Luis noticed the re-upholstered interior. "Leather?" he asked. "You like?" Mario asked. He'd invested in the leather seats to increase his ratings as a part-time Lyft driver. I asked how he ended up driving for Lyft even though he is a substitute teacher. "That's the economy right now," he declared. "Everyone is part of the gig economy. I want to be a full-time teacher. This is just a stepping stone." Despite the district's tempting offer of $44 per hour for substitute teachers to break the strike, Mario is loyal to his fellow teachers. The district claimed to have enough reserves to pay scab substitute teachers at that rate for up to three weeks, and yet there were not enough substitutes taking the bait to break the strike. This is remarkable act of solidarity considering Mario's comments about the economy.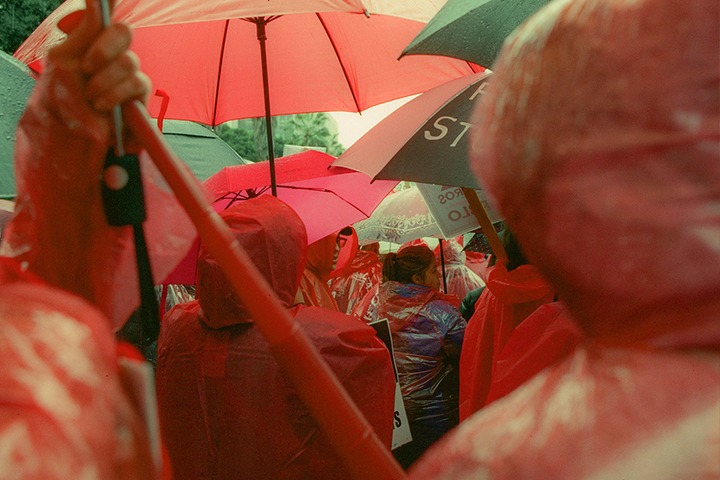 We pass homeless encampments as we discuss how not only tempting but necessary those extra dollars of incentive pay might be. But in spite of the bills he has to pay, Mario believes in the demands of the strike: "It's not just about the pay for the teachers. I personally think [one of the most important demands of the strike aside from pay] is a lot of the wrap-around services like nurses but also social workers. In some schools the nurse shows up once a week." He is the first person of many to make this point..
The next day, I talked with a mother who spoke Spanish but no English and was entering a school despite a picket. She told me she was not dropping off her kids at the school. She supports the strike and is waiting for her son to drop off an assignment before they head back home. Her support for the strike derives from the point Mario raised about nurses. Her daughter has asthma. Most days there is no nurse to administer the young girl's emergency inhaler. Whenever her daughter has an asthma attack, the mother comes to the school and administers the medication herself.
It's hard to see how big the rally is from where we're standing. I'm in a sea of impermeables. Bright ponchos painted with slogans stick together as we march. Red flags cut across the gray sky and umbrellas overlap to obscure the view beyond your neighbor. Judging by the loud energetic chatter and noisemakers that relentlessly interrupt my conversations, the crowd is tremendous. By nightfall word is passing through the strike that there are tens of thousands of teachers, parents, students, and community members present. My friend Andy tells me he just came from a picket with his former teachers at John C. Fremont in South Central, where two charter schools recently closed down almost overnight, flooding their classrooms. Teachers find it impossible to manage the number of new students when already burdened by a population that needs extra attention. Andy, for example, migrated to the United States from Mexico at age 16 and relied heavily on the support of his ESL teachers. He is an activist in the undocuqueer movement, a movement highlighting the conjoined struggles of queer and trans migrants. Nico and Myra, parents of two students in LAUSD schools and activists in Boyle Heights, said they support the strike: "the community needs to step up for the teachers because the teachers play many roles within the community." They're lucky to be self-employed and have the flexibility to pick up their kids should an emergency happen while there is no nurse on duty, but recognize that the children of parents who work are helpless in this regard.
Insurgent Universality on the Picket Line, Day Two
I rose early to join the picket line at Robert F. Kennedy High School in Koreatown. It was raining again. The picket blocked pedestrian traffic and parents taking their children to school. I spoke with Sindy, a counselor at RFK who described her struggles as a teacher and counselor. Like so many others, she has too many students. "I'm helping the seniors apply to college. It's becoming more demanding and takes a lot more steps." As a counselor, she is privy to sensitive information about the students beyond their academic backgrounds. She can't help but double as a counselor, listening to the extracurricular problems. Her salary covers a six-hour day but "it's become the norm for us to always give extra." Time is not the only scarce resource. She has two desktops for up to one-hundred college applicants at one time—this in an age when applications have gone all-digital. The school district is sitting on $1.9 billion dollars in reserve. Why can't that help her pay for student laptops? Sindy said these deficiencies are one way public school students are being cheated of college opportunities. On top of that, many simply cannot afford it. Nearly nine out of ten RFK students qualify for free or reduced lunch, making it one of the poorest schools. On the opposite side of campus, another picket line formed to deter scabbing teachers from driving into the campus parking lot, much more visibly aggressive than its counterpart. The picket line, with several dozen rowdy picketers, was temporarily broken by a black car. People chanted "turn around, turn around!" cursing the car as the driver forced past the jeers of the angry crowd.
On Friday, the union celebrated the victorious week of actions with a sixty-thousand-person concert at Grand Park, featuring Tom Morello of Rage Against the Machine. Throughout the city, bumper stickers, lawn signs, wheat-pasted posters, and billboards proclaimed a rebel Los Angeles, galvanized by solidarity. By Tuesday, the news hit: the teachers had won! They'd won a contract, but also something more, offering a glimpse at an insurgent universality from below and a world where public goods like education are allocated to everyone.