Willem Van Spronsen's actions are part of a history of collective struggle against detention centers and their world.
On July 13, 69-year-old Willem Van Spronsen used incendiary devices to attack a number of vehicles belonging to Immigration and Customs Enforcement (ICE) at the Northwest Detention Center in Tacoma, Washington. The attack came just hours after an anti-ICE protest outside of the facility. Van Spronsen was fatally shot during an ensuing confrontation with the police. He had been involved in social struggles for over a decade and actively involved in a long-standing battle against the Northwest Detention Center; he was arrested in 2018 at a protest outside of the facility while attempting to prevent police from arresting a 17-year-old demonstrator. As news spread of Van Spronsen's death and final acts, many were appalled by his actions, while others celebrated them online. Very few, however, were surprised. Though he acted alone, his actions are part of a long collective history of struggle at the Detention Center.

The Northwest Detention Center (NWDC), built in 2004, sits about forty minutes south of Seattle, just blocks from Commencement Bay, a former superfund site and one of the most active commercial ports in the world. Amid this bustling locus of commerce, stands one of the largest immigration detention centers in the United States, generating $57 million annually for the private corrections company GEO Group.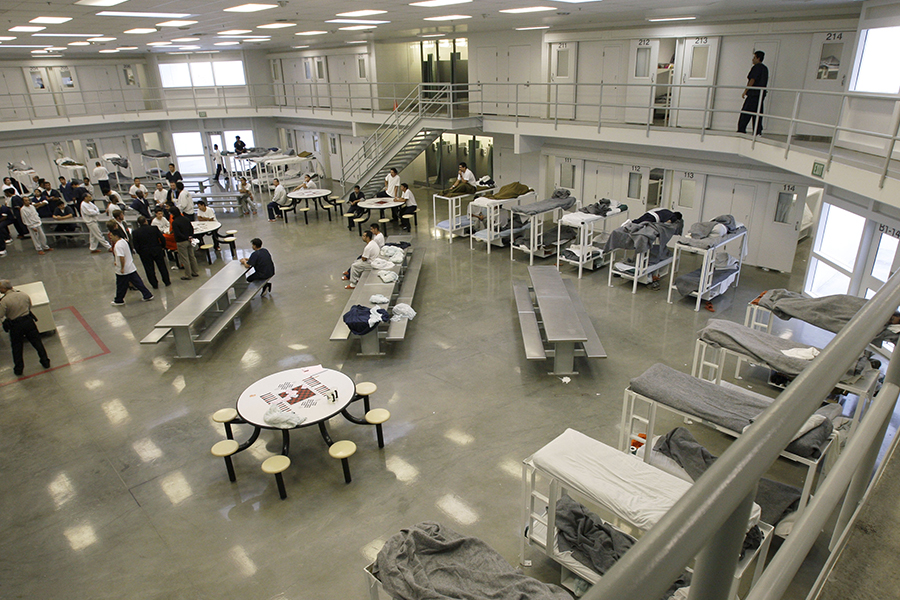 According to GEO's website, the facility, under contract with ICE, houses up to 1,575 people on any given day as they wait to undergo deportation proceedings. GEO Group also operates sixty-eight other facilities across the US, amounting to a capacity to imprison up to 74,746 people nation-wide. The company also operates facilities in the UK, Australia, and South Africa.
Since 1995, GEO Group has paid $9.7 million in penalties for twelve instances of grave misconduct across its US facilities, including instances of assault, negligent medical care, forced labor, and wrongful deaths; eight further cases are pending. In 2008, the Seattle University School of Law's International Human Rights Clinic carried out an investigation into the Northwest Detention Center and concluded that the conditions "violate both international human rights law and domestic Constitutional protections." While the conditions at the Tacoma facility are emblematic of ICE facilities nationwide, in recent years it has become the site of uniquely prolonged and powerful resistance.
The current wave of struggle against the NWDC dates back to roughly February 2014, when protesters blocked the gates outside of the facility, disrupting the weekly bus transportation of immigrants to the nearby airport for deportation. Days later, twelve hundred of the 1,575 detainees at the facility began a hunger strike that marked the first in a series of many that would take place over the following year. The hunger strike lasted almost two months and even spread to another GEO-run facility in Texas.
The strikers listed demands better food, better medical care, better pay, an end to GEO's contract with ICE, and a complete halt on all deportations. A number of solidarity rallies took place outside the detention center, with some drawing over 500 participants. Demonstrations also took place at the sites of companies who invest in GEO Group, including one protest outside the Seattle offices of the Bill and Melinda Gates Foundation.
After this first wave of resistance, those on the outside continued to put pressure on the facility. In August of 2015, a group of activists in Seattle blocked traffic for two hours to protest GEO's treatment of transgender detainees. A month later, about 20 people blocked all of the entrances to the NWDC, effectively interfering with the operation of the facility and preventing deportations for the day.
Throughout 2016, activists continued to organize demonstrations against the NWDC and connect the fight against it to other movements for indigenous sovereignty, black lives, trans rights, and the growing movement against Trump.
In April of 2017 a second wave of hunger strikes kicked off inside the facility. Over 750 detainees took part in the first strike, which lasted more than four weeks. The strike began in the men's section of the facility and within days spread to include almost half of the women's section. Detainees also participated in commissary boycotts and work stoppages throughout the strike. Meanwhile, a number of solidarity actions took place outside of the facility and a small encampment was set up just outside the gates by supporters.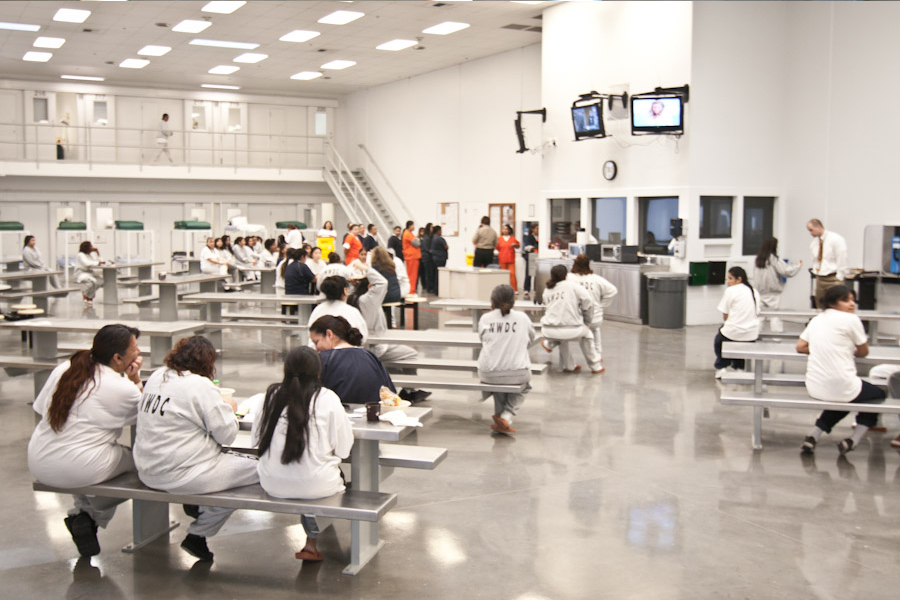 Inside the facility, negotiations were attempted between detainees, ICE, and GEO Group representatives but were largely unsuccessful, as the facility refused to meet the demands of the strikers. By the end of 2017 detainees had participated in at least nine separate hunger strikes at the facility.
Things continued to escalate both inside and outside the facility throughout 2018. On February 7, detainees began a work stoppage in the kitchen. Two days later, at least 120 detainees launched yet another hunger strike. The strikers said it was spurred by guard abuse, poor food quality, and conditions within the prison. In response, guards reportedly beat a number of prisoners and placed those believed to be strike leaders in solitary confinement. "I participated in the hunger strike because I've seen the injustices that people here in detention have faced," said one hunger striker, "and for taking peaceful action to protest injustice, I have been hit, injured, and unfairly punished." In response, the ACLU filed a legal suit, charging federal authorities with retaliating against First Amendment-protected activities. The suit resulted in the hunger strikers being released from solitary confinement.
In late June of 2018, protesters set up an encampment outside of the NWDC inspired by the Occupy ICE movement, which began in Portland, Oregon, and spread to cities across the country. The protesters erected a blockade of the street leading to the facility using torn-down fences, pallets, and railroad ties; they held noise demos outside the facility twice daily and regularly blocked deportation buses. The encampment lasted more than a month despite being under constant threat of eviction by police. Amidst the occupation outside the facility, at least forty detainees began a hunger strike that lasted four days. Among the stated goals of the hunger strike was "to share the opinions of mistreatment that occur inside, and to ask for changes in ICE and GEO's policies." On July 28, the camp was attacked by police, the barricades were torn down, and the occupation ended.
In July, less than a month later, detainees went on yet another hunger strike, this time inspired by a call for a nationally coordinated prison strike. The strike, called for by members of Jailhouse Lawyers Speak, included work stoppages, hunger strikes, and commissary boycotts in prisons and detention centers across the US and Canada. The strike began on August 21st to commemorate the anniversary of the day George Jackson was killed in a California prison, and ended on September 9th, the anniversary of the historic Attica prison uprising. As many as two hundred detainees at the Northwest Detention Center participated in the strike, showing solidarity with other prisoners across the US and challenging the distinction between immigrant detainees and those being held in other carceral facilities.
One detainee explained their motivation in a letter to NWDC Resistance, a grassroots movement led by undocumented people. "We are taking part in a hunger strike nationwide," the hunger striker noted. "Demanding change and closure of these detention centers. We are acting with solidarity for all those people who are being detained wrongfully, and stand together to help support all those women who have been separated from their children, and to stop all family separations happening today."
Amidst the daily threat of mass immigration raids and growing national movement to calling to abolish ICE, 2019 has already seen at least eight coordinated hunger strikes at immigration detention centers across the US, according to Perilous Chronicle, a group that tracks prisoner unrest in the US and Canada. In the week leading up to Van Spronsen's attack on the detention center, there were at least four separate hunger strikes by ICE detainees happening in four separate facilities in four separate states. The strikes have involved hundreds of detainees across many regions, evidencing that the issue spans beyond an issue of private prisons or any one single facility.
Meanwhile, resistance continues to occur outside of detention centers and prisons. Jewish organizers holding #NeverAgain actions outside of ICE facilities across the country have drawn comparisons between ICE detention centers and concentration camps. Protesters have shut down city blocks to protest ICE in Phoenix, New York, and Chicago, and government buildings have been surrounded by activists in DC. In July, a crowd of over two thousand gathered in Aurora, Colorado outside a GEO-run ICE detention facility, ripping down American flags and re-hoisting flags spray-painted with "Abolish ICE."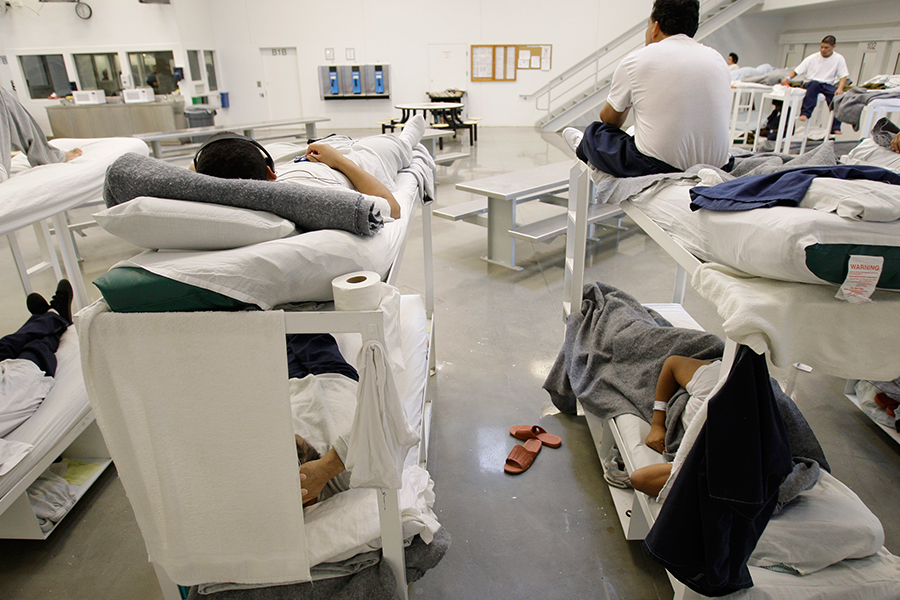 When those of us on the outside take action, we provide the conditions for prisoners to act and situate their actions within a wider movement. Recent examples of this are plentiful: from the Vaughn uprising in Delaware where prisoners rose up and connected their actions to the emerging movement against Trump, to the prisoners who smashed out their windows at DeKalb County Jail in Atlanta when they knew outside demonstrators were showing up yet again to call for closing the facility.
These moments teach us that when we rebel in shared struggle, the walls that separate us don't seem so thick. Many in the depths of the American carceral system understand this, as did Willem Van Spronsen. Willem had been an active participant in Occupy Olympia in 2011, a member of the Puget Sound John Brown Gun Club, and active in the fight against the Northwest Detention Center. He knew the ups and downs of struggle and knew that taking bold action would pave the way for others to take action. Among the words he left behind in his final note were these: "I'd be an ingrate to be waiting for a more obvious invitation… I set aside my broken heart and I heal the only way I know how—by being useful." We are useful when we act strategically, together. Let ours be the era of action. For Willem.